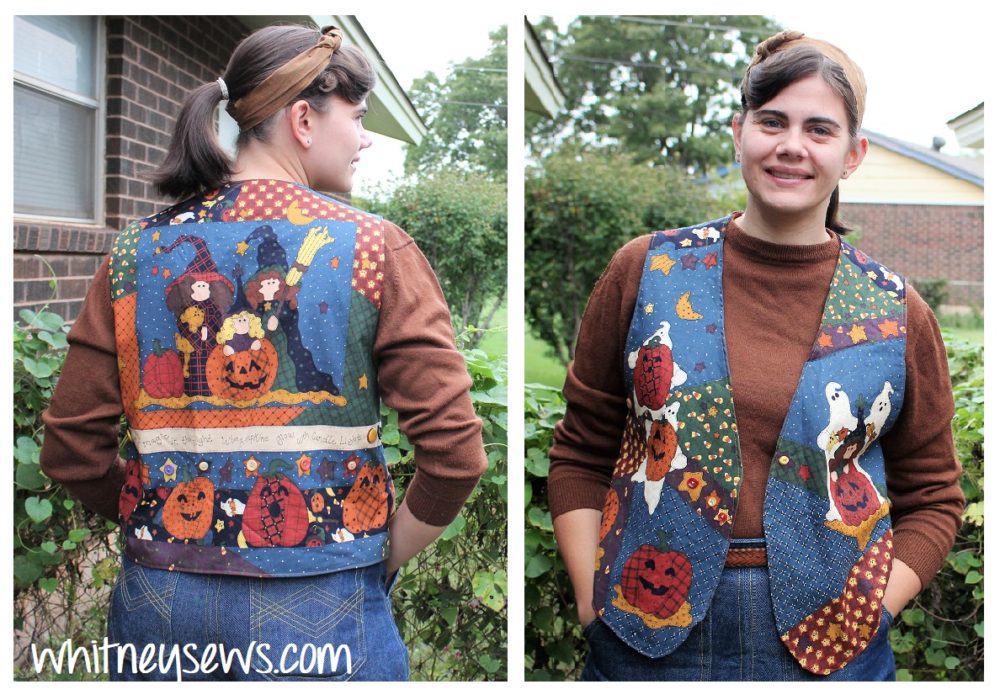 Since Halloween is quickly approaching I thought it would be fun to create a cute Halloween vest using a preprinted fabric panel. A sweet lady named Janice sent this to me recently (along with a ton of other sewing goodies!) and it brought back a ton of fun memories for me. Growing up my mom made most of my clothes and some of her own.  She often worked with sewing patterns, but I do remember several times when she used fabric panels to make vests, aprons, fabric books, and more.
The neat thing about printed panel projects are all the designs are printed on, so there are no appliques, piecing, or fabric matching needed most of the time.  Of course this can also end up looking a little flat and one dimensional.  An easy way to add the dimension back in is with buttons, puffy paint, beads, and trims.
The first time I sewed a panel project it was a Charlie Brown tree skirt back in 2011 or 2012.  I added a ton of buttons and beads to it (which ended up not being a good idea…presents don't sit well on it and it's uncomfortable to step on).
This vest project actually had buttons printed on so I selected 16 buttons from my stash that were a similar size and color to be sewn on top of each.  After the embellishments were added I was ready to sew the vest together.
See how it all came together in the video HERE!
So have you made projects using fabric panels before?? I would love to hear about yours, so leave a comment on youTube or here on the blog. Until next time, Happy Sewing!
-Whitney-