Last month we took our first family vacation, just us and the kids without any extended family.  We set out in a rental car with no plans other than exploring and having fun!  We had a great time and have lots of memories to share.
The first thing I want to share is our vacation video.  It is so fun to put together the clips from our trip and I really love how it turned out!  That video is posted on my personal channel, Whitney's Tiny Life, but you can watch it right HERE!
On thing I really wanted to do was share some of the actual stories from our journey.  I considered narrating the video, but it just didn't seem to fit.  So instead I wrote out the narrative for anyone who wants to read it.  **If you don't want to read the entire story scroll down to the next photo**
This summer we decided it was time to take our first family vacation. We picked up a rental car and headed West. We had no schedule and no plans other than making it to Santa Fe and returning the rental 6 days later. As we drove we left the familiar landscapes behind and entered a different area full of cacti, rocks, and brush. It was beautiful in a way we are not used to seeing. The Oklahoma hills turned into plateaus and then mountains. It was easy to spot Route 66 from the highway as it snaked it's way through the land, sometimes freshly paved and other times looking like a well worn back road.
As we came across interesting places we would stop and explore and meet interesting people, like Heidi and Kevin, the dog, at the TeePee Curios. We thought we would stop for a few minutes in Tucumcari, and ended up staying a few hours shopping, taking in the sights and murals, and having lunch. Then it was back on the road. The girls did amazing with all the driving, sometimes watching a movie and other times napping or in Peyton's case analyzing maps and fliers for an hour or so while Jeremiah took in the amazing sights.
We finally ended up at an adorable motel in Santa Fe, New Mexico.
The next morning we set out to explore and on our way to the plaza area we happened onto a beautiful cathedral right as Sunday morning services were starting. It happened to be Mother's Day and I was wished happy mother's day more times that day while walking around the cathedral and plaza than in the previous two years combined.
After a packed lunch and some running and playing we hit the road again toward the tent rocks national monument. We hiked the short trail and took in the incredible sights.
The first night we were in Santa Fe we saw the most beautiful sunset as the sun slowly sunk behind the mountains filling the sky with pink and orange rays. We decided to spend one of our evenings chasing the sunset. Setting out about two hours because the sun would go down we drove and drove toward the western horizon. We didn't know where we would end up, just wanted to find a great spot to take photos. We ended up finding the ranch were Bonanza was filmed and driving down roads until they turned to dirt while Peyton serenaded us with Let It Go. We finally found the perfect spot just as the sun was starting to fall behind a mountain in the distance and stayed there until it was completely out of sight. It is truly an amazing thing to slow down enough to watch the sun set and the sky change from one moment to the next as different colors spread across the sky.
On our last full day in New Mexico we took a day trip up to Taos to explore and look at some earthships. We happened onto one earthship that offered tours. It was neat to finally be in an earthship after looking at so many of them online. After making a quick stop at the Rio Grande' Gorge we headed into Taos for lunch. Much to Peyton's delight we found a place that had a great gluten free pizza then another little shop that had the most delicious gluten free carrot cake in the world!
There was a sudden downpour so we took refuge in a little shop called Overland and chatted with one of the employees for a while. He was from Dallas, Texas and visited New Mexico every year with his family when he was young. He loved it and when he got tired of the fast paced Dallas life he retired and moved to New Mexico. He had been afraid it wouldn't be as wonderful, casual paced, and beautiful as he remembered, but said it was just as great, if not better!
The following day we packed up the car and headed toward home.
We stopped at a McDonald's near Tucumcari, New Mexico on the way home. An older man came in who I immediately took notice of. There were lots of people coming and going, but he stood out to me. He was walking straight and tall with his head held high, despite having to use a walker to get around. Now Skyler is at a really fun age where she will take to certain people and smile and wave at them for as long as they will wave back. The gentleman sat at a small table across from us and Skyler took an interest in him. She gave the man a wave. He waved back with his left hand and they exchanged smiles. Skyler smiled and pretended to be shy then gave him another big wave. He returned he wave. This went on for quite a while. Even after the man's food arrived and he was eating he continued to wave and smile at Skyler each time she waved to him. I knew I couldn't leave without speaking to the man. We fell into a short conversation and I learned his name is Gordon Faulkner. Despite the shake in his voice making it hard for him to speak Gordon told me about surviving 3 strokes and a heart attack that have left his right hand basically unusable. We finished chatting and parted ways with sweet memories of an unspoken connection between a young child and a sweet man.
Our final stop on the trip was the Cadillac Ranch near Amarillo, Texas. Peyton had fun dancing around and looking at the multicolored cars standing on end in the earth. If you happened to stop by shortly after we left you may have noticed Whitney Sews written in white paint inside the car on the West side.
Late that night we made it back home to Oklahoma. It felt good to asleep in our own beds again and think about all the great memories we made on our trip!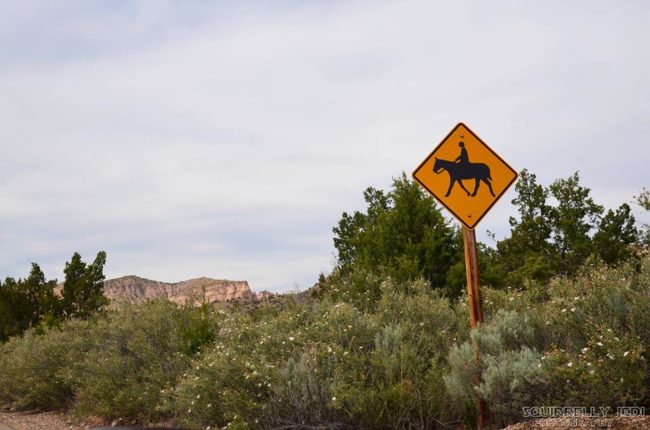 Like the photo??  Jeremiah took tons of amazing pics on the trip!  You can check them all out HERE!
Since this was our first big trip we decided to get whatever we wanted to remember the trip by.  We got everything from typical souvenirs to OOAK jewelry pieces.  Jeremiah and I filmed a haul video showing everything we got!  You can check it out HERE!
We wanted to make sure to share the details for every place we picked something up.  So if you're interested in learning more about a place we stopped or an item we showed, check out the info below.
Tee Pee Curios 


Collectable Pins


Tucumcari, NM




(575) 461-3773





Mesalands Dinosaur Museum


Souvenir Rocks


Tucumcari, NM
(575) 461-3466





Bowlin's Flying C Ranch


Baja Jackets


Encino, NM




(575) 472-5116





Lamplighter Inn


Stayed 4 nights


2405 Cerillos Rd. Santa Fe, NM




(505) 471-8000





Chocolate En La Plaza


Chocolate Bar and Truffles


70 East San Francisco Street #19-B Santa Fe, NM




(505) 795-8280





Sunwest on the Plaza


Earrings, Pins, and Patch


56 Lincoln Ave, Santa Fe, NM




(505) 982-0227





Can't Locate Store Name


Purple Skirt



Gloriana's Fine Crafts


Beads and Pendant


Corner of Washington and 55 W. Marcy Santa Fe, NM




(505) 982-0353





Pauline Vanfleet – Navajo artist


Beaded necklace


Palace of the Governors – Santa Fe NM


[email protected]



Emilio Chavez – Pueblo artist


Turquoise ring


Palace of the Governors – Santa Fe, NM


[email protected] 



Eastwind Echo


Purple Hareem Pants and Ring


235 Don Gasper Ave, Santa Fe, NM




(505) 983-8733





Overland Sheepskin Co


Hat


1405 Paseo Del Pueblo Norte, Taos, NM




(575) 758-8820





Farmhouse Cafe & Bakery 


The best gluten free carrot cake!


1405 Paseo Del Pueblo Norte, Taos, NM




www.farmhousetaos.com





Big Texan


Souvenir Pins


Amarillo, TX


www.bigtexan.com 
Whew!  That was a lot of info!  I hope you enjoyed getting a glimpse at our vacation.  Have a wonderful weekend and make sure to come back next Wednesday for another new sewing video!
-Whitney-