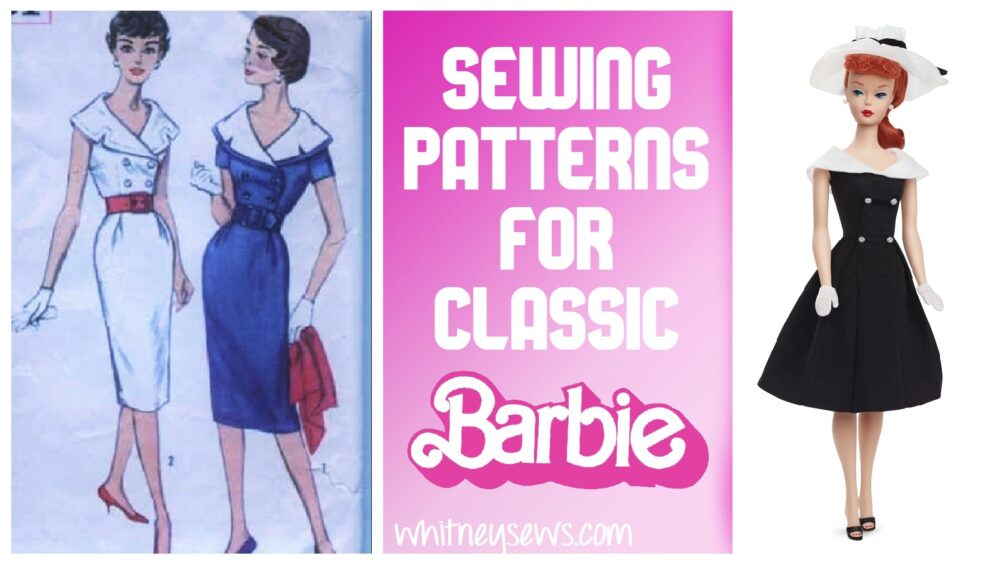 In light of the new Barbie movie, my thrifted Barbie collectable doll book, and the fact that I own more than 550 sewing patterns…it just makes sense to go through my pattern collection to find patterns that can be used to sew real life classic Barbie looks.
As a competitive cosplayer I love using sewing patterns as a starting point for my costumes. I will used pieces from multiple patterns together to get the exact look and design I need. But the patterns I'm sharing today are more straight forward and would only need smaller adjustments to look like what Barbie wore.
Growing up I had a few Barbies and really enjoyed dressing them up in different outfits. My mom even made clothes for my Barbies. (Which btw bless her for that! Sewing on that small of a scale is not easy.) Her mom made clothes for her Barbie as well and Mom still has her doll and the clothes my Grandma had made. Several years ago I came across a reprint of the exact Barbie pattern my Grandma used all those years ago and it is so special to me.
But today we aren't talking about making clothes for 11.5 inch dolls, but rather recreating those doll designs for people. I have selected several classic Barbie looks from the collectable Barbie book and found sewing patterns with very similar designs so you can sew real life classic Barbie looks for yourself!
You can see all the Barbies and patterns in the video linked HERE!
Leave a comment letting me know which Barbie look is your favorite. Maybe it's one from the video or one I didn't cover that you want me to see. Until next time, Happy Sewing!