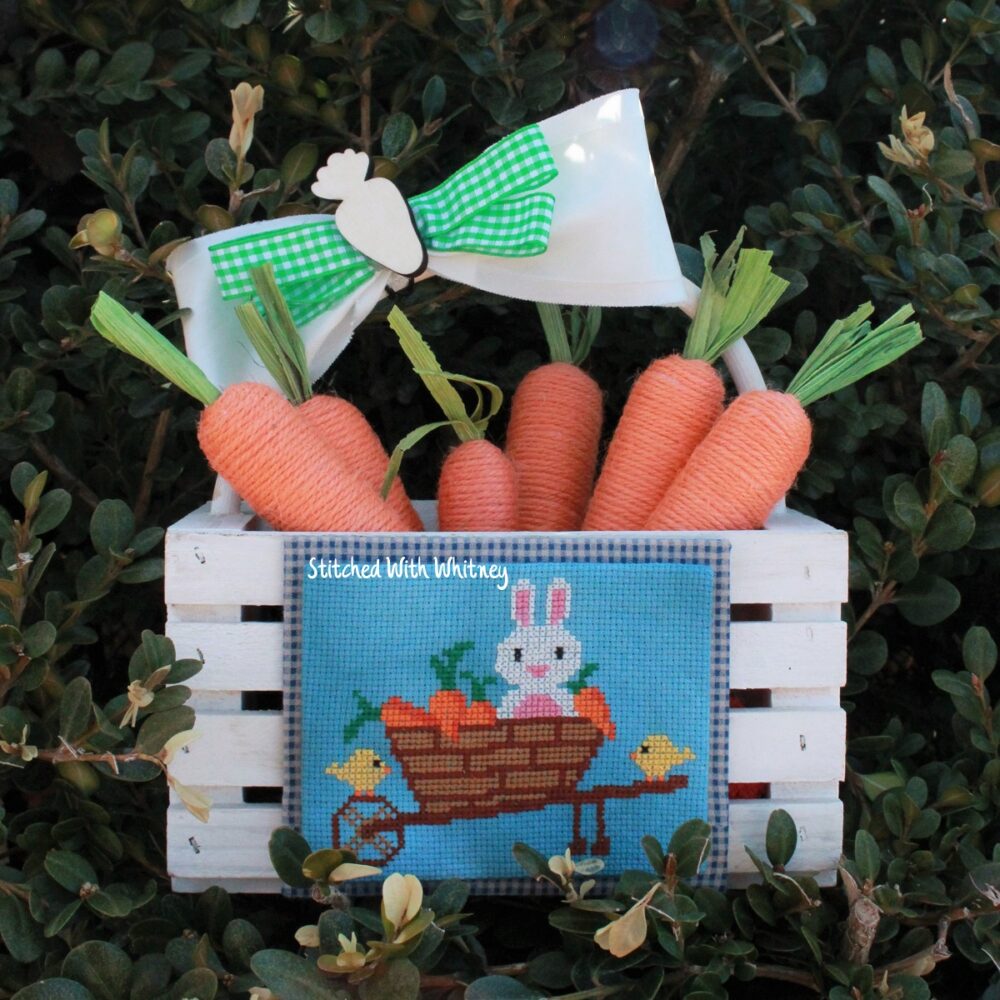 Hello everyone! It has definitely been a bit since I last shared anything here. I've been so busy that I haven't had time to slow done to share any updates.
As you can see above I have been keeping up with cross stitching. Within the past week I released two new Spring stitching designs.
The first was part four in my Crop of Characters series.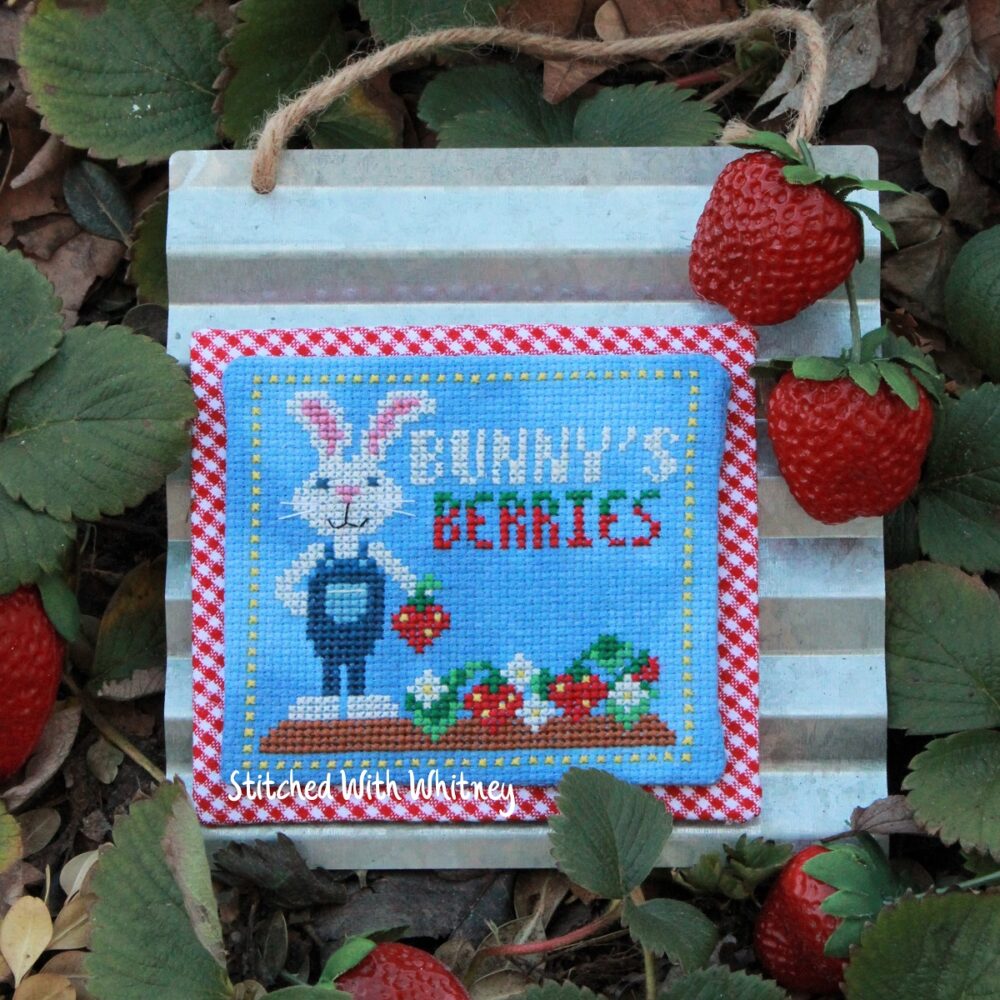 I started growing strawberries a couple of years ago so I knew my Spring crop needed to be berries. I think it turned out so cute and the perfect way to wrap up the series.
Next I shared the first pattern in my new Carty Party series.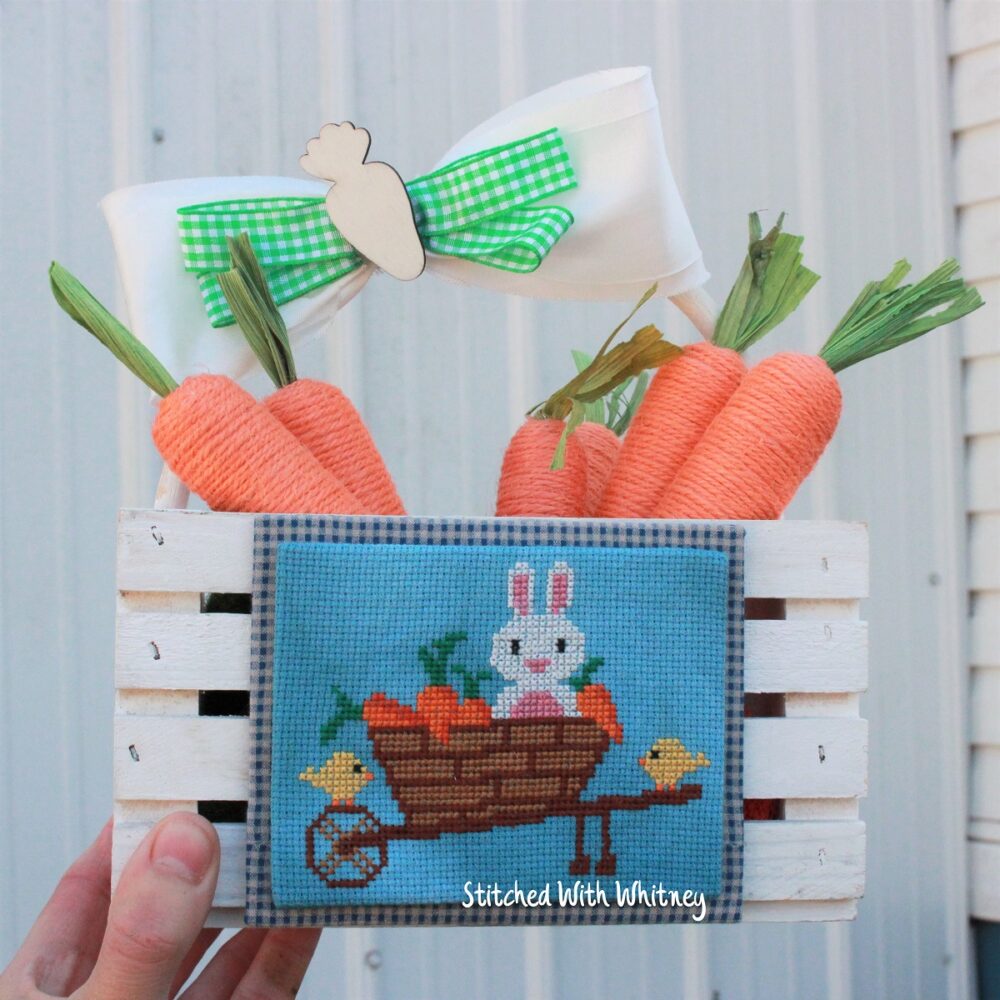 Each design will feature a cart full of goodies and a character, but instead of following the seasons, this series centers on holidays. The first design is for Easter (but isn't too obvious, so does work for Spring as well).
You can find all of my designs in my etsy shop – Stitched With Whitney.
In addition to cross stitching I have done some big stitch hand quilting on a project I started last Summer. It was only supposed to be a one or two month project. But after only a day or two of hand quilting I set it aside to work on something else AND COMPLETELY FORGOT ABOUT IT! I ended up cleaning my sewing corner (while wondering why the pile was so large) and found my forgotten quilt. So during the Olympics I spent a few evenings watching ice skating and stitching.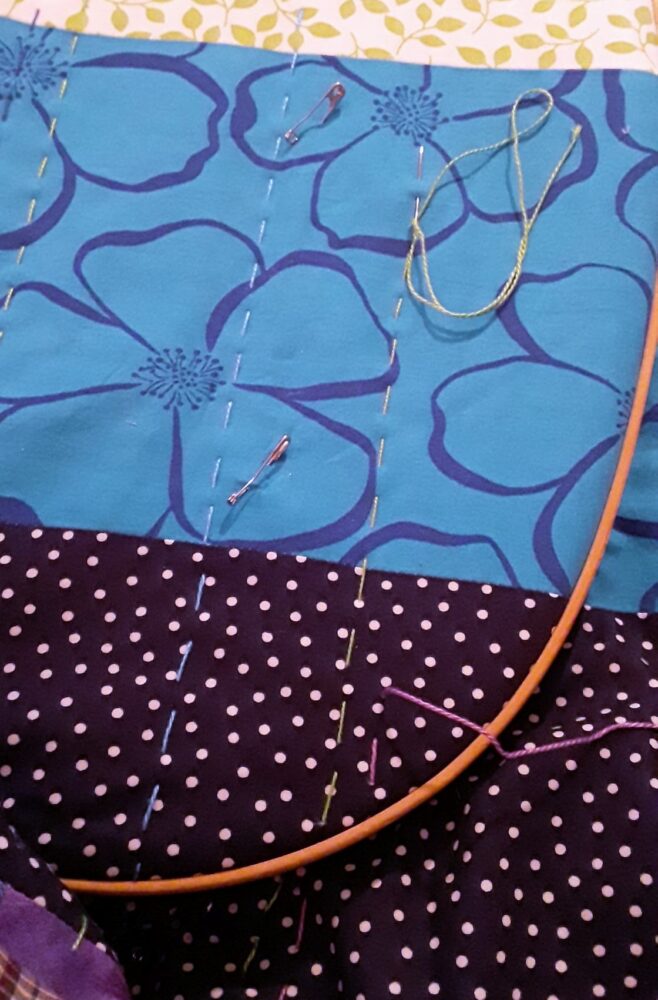 I still have a lot of work left on it, but feels good to have made some progress. The entire quilt was a stash buster for our spare/school room bed. I'm looking forward to seeing it completed.
Speaking of our school room. Back in November we switched our kids room and school room which was a huge job. The kids got a bunk bed and because of the shape of their old room/door and window placements there wasn't a good place it would fit where the ceiling was high enough. So we swapped the rooms. Along with the swap I promised Peyton her own sewing space in the school room. I had a little corner to work with, so I used my childhood nightstand. I cut a U shape out of the bottom and took out the drawer and drawer supports to make room for her chair and legs. I had a little wooden folding chair that perfectly fits into it. It worked out perfectly and now Peyton can work on projects in her own little sewing space. She's using the same sewing machine my parents gave me for Christmas when I was a teen. It's the machine I took to collage with me and sewed costumes for my friends on, started my etsy shop with, and used in the early days of Whitney Sews.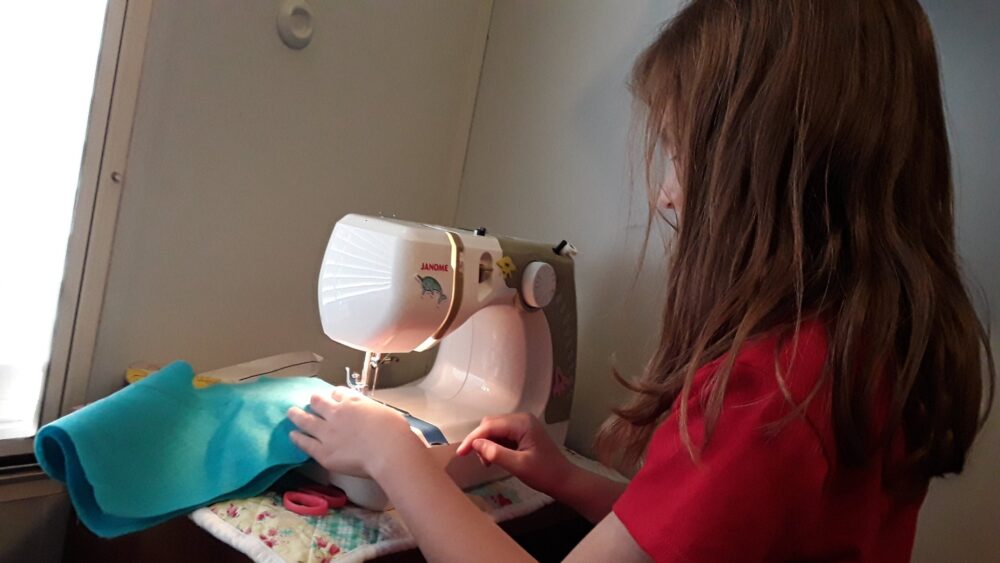 I wrote up a post on my Patreon last month about how I'm teaching Peyton to sew, books and patterns we are using, and what she has made so far. It's fun watching Peyton think of ideas for sewing and cross stitching (she started designing cross stitch patterns too!). She has so many more creative ideas than I have ever had and I can't wait to see where it takes her!
On top of ALL of that I have been working on costumes in every spare moment I can find. After taking almost two years off from working on my large competition cosplay, I'm finally back at it!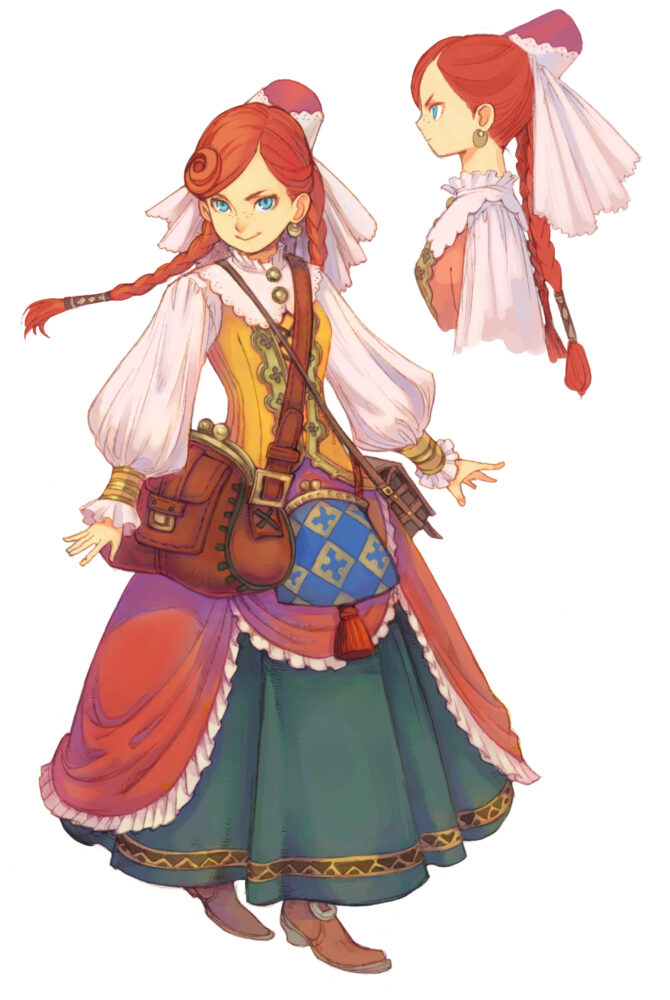 The cosplay I'm making is Francesca from Avalon Code (a game I have never played). I found the image a few years back on Pinterest and fell in love with the entire look. After a year or so of continually coming back to it I decided I needed to make it! I made the teal skirt and hand embroidered the bottom and created the blue purse two years ago. You can find progress pics on my Instagram profile. In the past month I have made the shirt mockup and final shirt, the body of the smallest bag from foam, the large bag's buckle from foam, the shoe buckets from foam, the pocket for the large bag, and the back portion of the pink skirt. I had never intended on letting this costume sit for so long, but with no conventions came no motivation to work on it. But now that things are back on track I have motivation and lots of new ideas on how to complete some of the pieces I had previously been unsure about.
I also got back to work on Jeremiah's Tenzin costume (and realized I was farther along than I remembered!) It down to mostly finishing work with is great. It has to be completed by April 9th to wear to the first convention of the year. It also happens to be the first convention where I will be hosting a sewing panel! It is called CreatorsCon and is a convention all about learning and creating cosplays and props.
I wanted to have a new cosplay to wear to the convention (but there's no way my Francesca will be done in time) so I decided to put together a less involved costume. I decided on a female Robin Hood type look. This way I can wear it to the Medieval Faire and to CreatorsCon.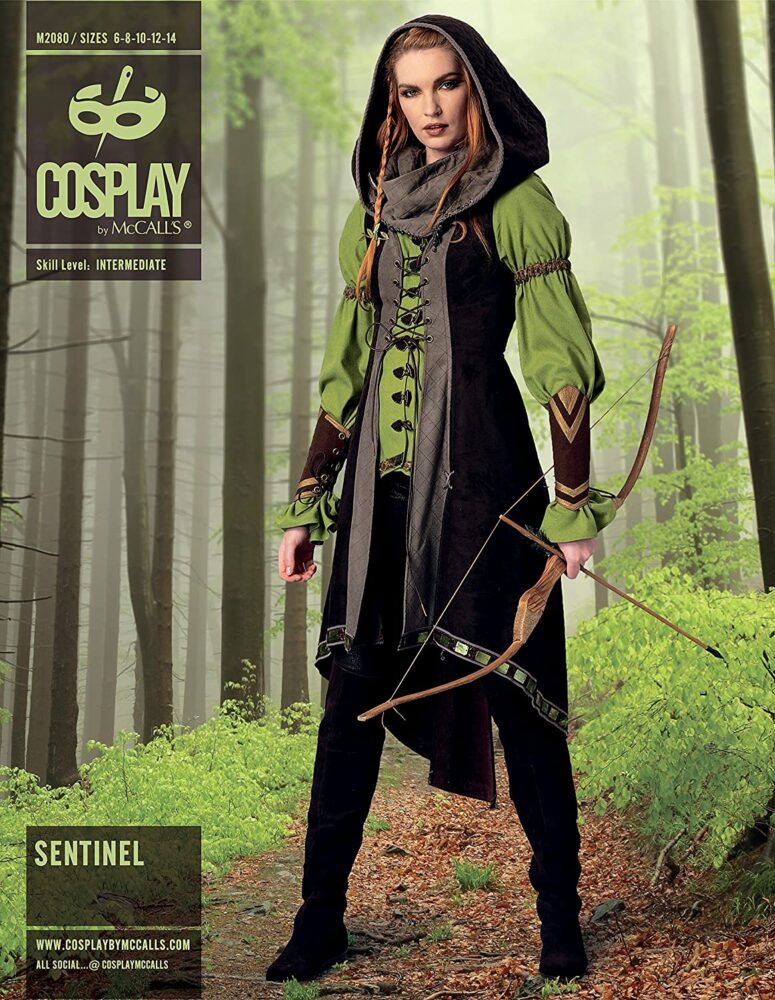 I thrifted a light green set of curtains and a dark brown curtain set to use as my materials along with a bit of leftover velvet, a scrap of leather, and a dowel rod from a broken clothes drying rack. I used the dowel rod to make my own wooden buttons and I am SO thrilled with how they turned out!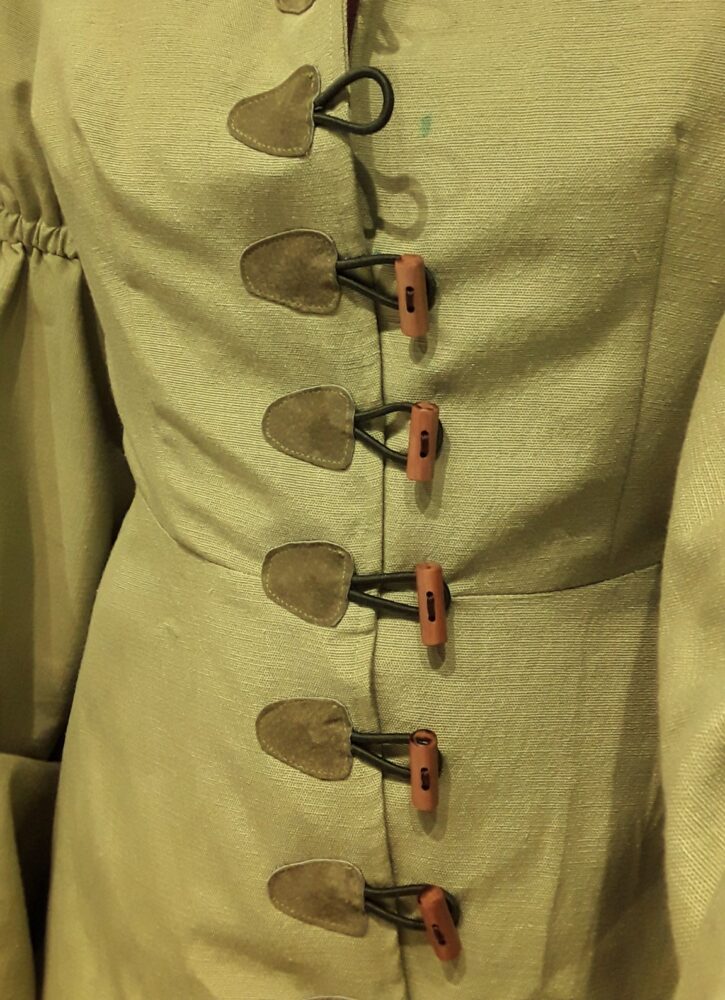 The kids are going with us to the con and Peyton requested a True costume from True and the Rainbow Kingdom. I made the bag and headband, but went easy on myself and bought all the clothes instead of making them myself.
There are still more things I've been working on, but that is all I can squeeze in here for now. I hope you are all doing well. Until next time, Happy Sewing!
Whitney