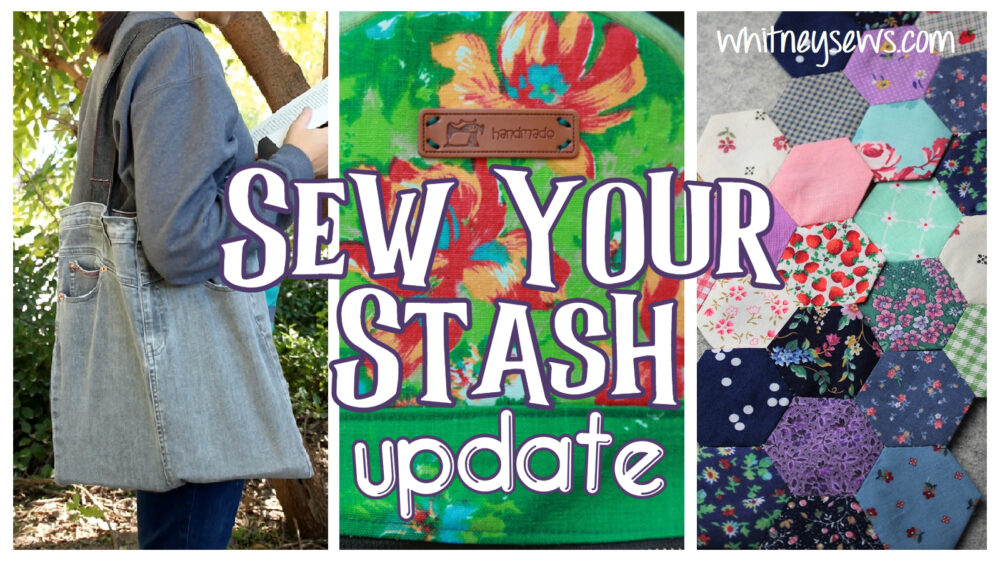 Did you know Sew Your Stash is back?!? Sew Your Stash originally began in 2017 when I realized I needed to stop buying, buying, buying and actually start using what I had. The original challenge lasted three years and 14,000 people joined in with me. We made so many amazing things from our stash fabrics!
Now two years since the original challenge ended I found myself with an overflowing stash once again. I realized it was time to restart the challenge. Six hundred people have already joined in on the Facebook group and I would love for you to join too!
Today I'm sharing ALL the projects I made from August through October using my stash fabrics. I'm so happy with how many things I made; it is a TON!! I made costumes, bags, a backpack purse, and so much more. I even started a quilt coat from scraps and am trying my hand at English paper piecing. You can see ALL the projects in my Sew Your Stash update HERE!
I mention a TON of videos and resources in the video. The links for all of them are in the video description box on youTube, so make sure to click through to youTube to find them all.
As we head into the holiday season I have partnered with St. Jude. This is my second year partnering with them and I'm so honored to help out. Last year we raised a total of $1,060 and I would love to do even more this year. If you aren't familiar with St. Jude, they have helped bring the childhood cancer survival rate from 20% to 80% with their breakthrough research and treatment. The best part is the families never receive a bill! It is funded by people like you and me so the children and families can focus on healing rather than worrying about finances. I will have a video coming soon sharing more details and a project inspired by a fabric designed by a St. Jude patient. I have a donation page set up if you are interested in donating to St. Jude and making a difference in the lives of St. Jude patients and their families! You can click HERE to donate.
I hope you all have a wonderful week! I will be back soon with more tutorials. Until next time, Happy Sewing!
Whitney