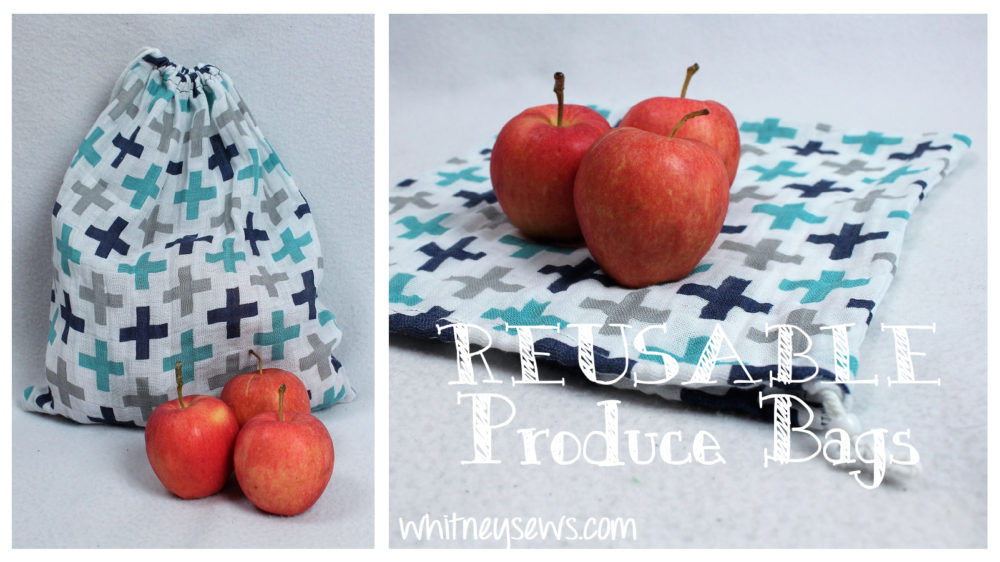 One of my favorite parts of summer is all the delicious, fresh produce!  But one thing I don't love are the plastic produce bags.  They tear sooooo easily and I end up with so many.  I decided to start making my own reusable produce bags.  I can pop the fresh fruits and veggies into the bags at the store or farmers market (take everything out for weighting) and not have to deal with all those little plastic bags.
I have some double gauze fabric in my stash that I've been wanting to try out.  It was interesting to sew with because of how the fabric is woven and I like the look and feel of the finished bag, but I'm not sure how long it will last before the fabric starts ripping around the stitches.  For the rest of my bags I think I'll stick to basic cotton.
Speaking of stitches, the produce bags are sewn with french seams and a double turned top edge so there are no raw edges inside or out.  So these bags can be tossed in the wash whenever needed without any worry about fraying.
Check out the step by step video tutorial HERE!
I'm far from perfect when it comes to waste, but I'm always looking for things I can reuse – cutting back on cost and trash.  Currently I use cloth menstrual pads, compost my kitchen scraps and old papers, purchase second hand clothing, and donate unused items.
Looking for other fabric/DIY low waste alternatives??  I have a playlist full of tutorials from unpaper towels to cloth pads that you can check out HERE!
BTW did you hear the exciting news from last week?!?  I got a package from youTube!  Want to see what's inside??  You can see the unboxing HERE!
I'll be back next week with another new tutorial.  Until then, Happy Sewing!
-Whitney-