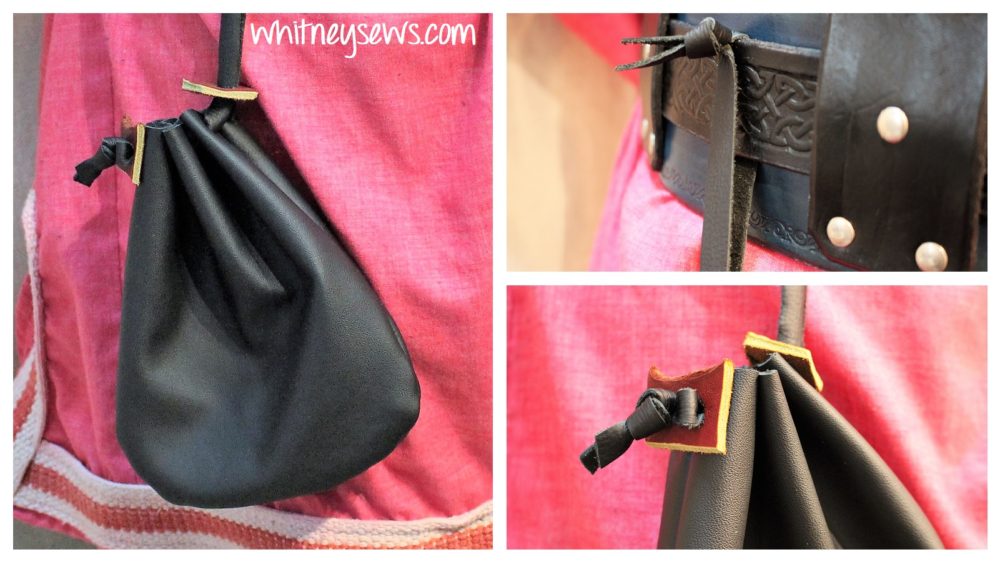 On of our favorite yearly traditions is to attend the local Medieval Faire in the Spring.  We have gone together as a family for the past nine years.  Each year we come home from a weekend of fun inspired to create many new projects.  One of the first projects I dove into making was a drawstring leather pouch.
Any time we dress up in costumes (which is ANY time there is a reason) we are trying to figure out where to keep a phone, chapstick, or keys.  These simple leather pouches solve that problem for our Medieval/Viking inspired costumes.  They aren't 100% historically accurate, but neither is the rest of our costumes 😉
I dug through my leather stash (and what a large stash it is!) and found several different kinds of leather, only a couple of which will work for a bag in this style.  Before the sewing tutorial actually starts I share several different leathers to give an example of how they look and feel so anyone making a bag can find the right kind of leather.
Another factor in selecting your material will be size.  I made a basic pattern for my bag that measures 8 inches wide and 8 1/4 inches long with the bottom two edges slightly rounded to give the pouch a nice round bottom.  Two pieces will need to be cut from that pattern along with two strips of leather 3/8 inch by about 18 inches long.  But feel free to make the bag in any shape/size you like.  There is only one seam to sew in the entire bag making it a perfect first project for anyone new to sewing leather.
Ok, enough chit chat – click HERE to watch the entire tutorial!
There you have it!  A super simple project with lots of costume (and non costuming) uses.  I hope you enjoyed the tutorial and until next time, Happy Sewing!
-Whitney-