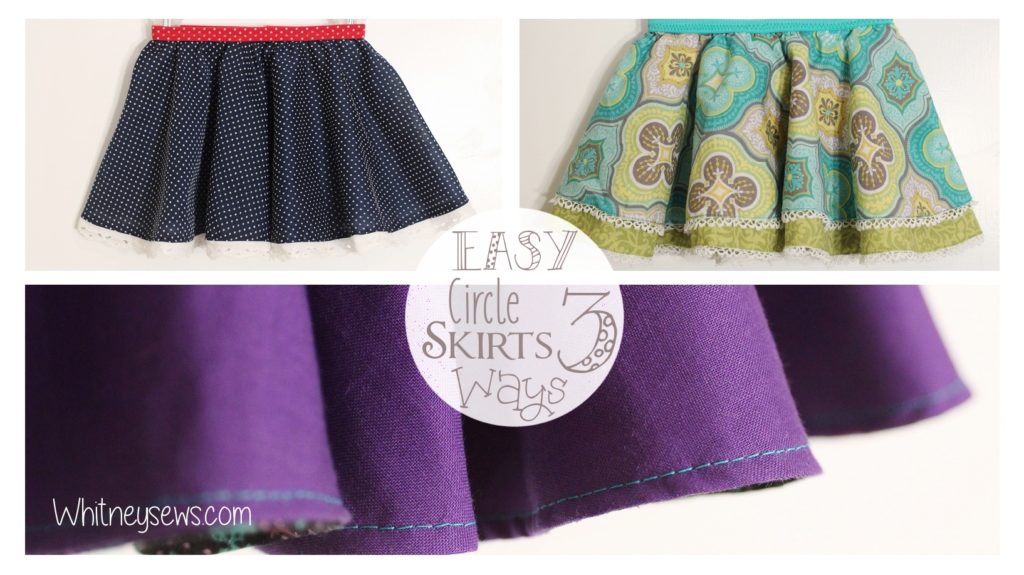 I have gotten tons of requests over the years for more clothing tutorials, especially children's clothing.  So when I decided to make an outfit (appliqued onsie and circle skirt) for my daughter's first birthday I knew I had to share tutorials for them.  Since the skirts are so easy and quick to whip up I wanted to show three different versions.
The first version is a basic circle skirt with an elastic waist.  The second is a double layer circle skirt.  Both skirts incorporate my hemming cheat that uses lace to make hemming a curve painless.  The third and final version is a reversible skirt that doesn't take any more time or effort to make.  All the skirts are finished off at the waist with fold over elastic so there are no zippers or buttons to deal with.  *The FOE used is the kind meant for sewing, not the type used for hair elastics and headbands*
I love how all three skirts turned out which is why I chose this tutorial for my first Feature Friday post.  *Almost* every Friday here on Whitney Sews I will be featuring a new project.  Some will be tutorials I've made in the past and some will be from other creators. If you have a project or person who want to see featured feel free to leave a comment on this blog page letting me know. Anyway, back to this week's feature…
Click HERE to learn how to make all three circle skirts.
In addition to Peyton's outfit I made a few other DIYs for her first birthday.  I put together a separate video showing the birthday cake, decor, and appliqued onsie which are easy to DIY on a budget.
You can see the adorable birthday girl and her DIYs HERE!
It's hard to believe that in 6 months we'll be celebrating Peyton's second birthday…with plenty more DIYs!  But until then, happy sewing!
-Whitney-