I've been meaning to make covers for my vintage sewing machines for years…but just never got around to it.  I saw a few covers on Pinterest that tied on the sides instead of being completely closed up (like an upside down tote bag).  I really liked the style and decided it was time to finally make my own.  (BTW if you aren't already following me on Pinterest…you should!  Click HERE to see my pins!)
What's funny is when I designed this project I couldn't even remember what the cover on Pinterest looked like except that it had side ties (I went back and found it- HERE's the original inspiration).  So I went ahead and just designed my own.  I wanted to keep it simple so I cut strips of varying sizes and pieced them together.  I used some sewing themed fabrics I had been given along with a few small prints.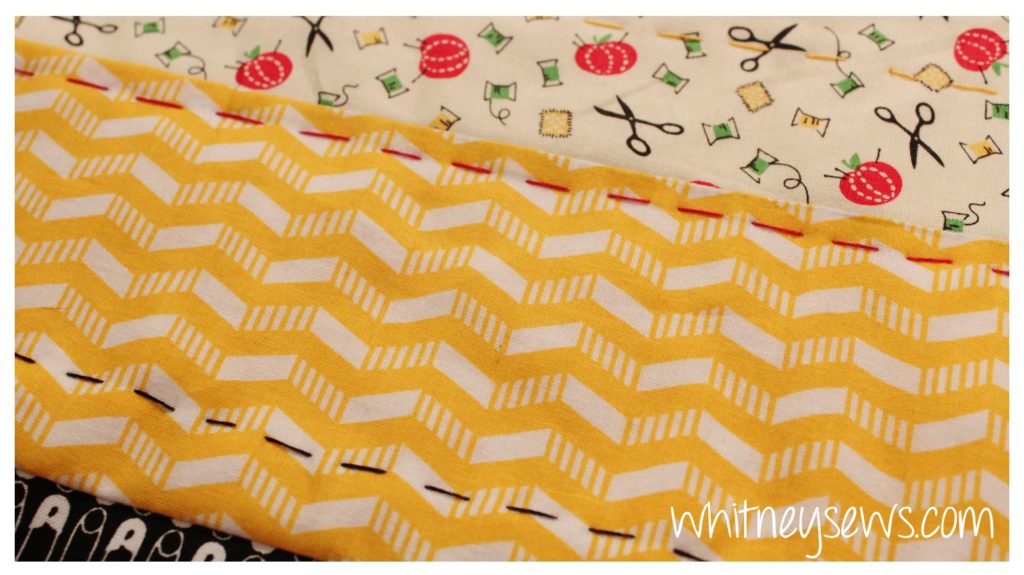 I made this to fit the size of my vintage machine, so you'll need to measure your own machine before deciding on your measurements.  I wanted mine to finish about 18 x 25 inches.  The cutting measurements I chose will be listed below in case you have a similar sized machine to mine.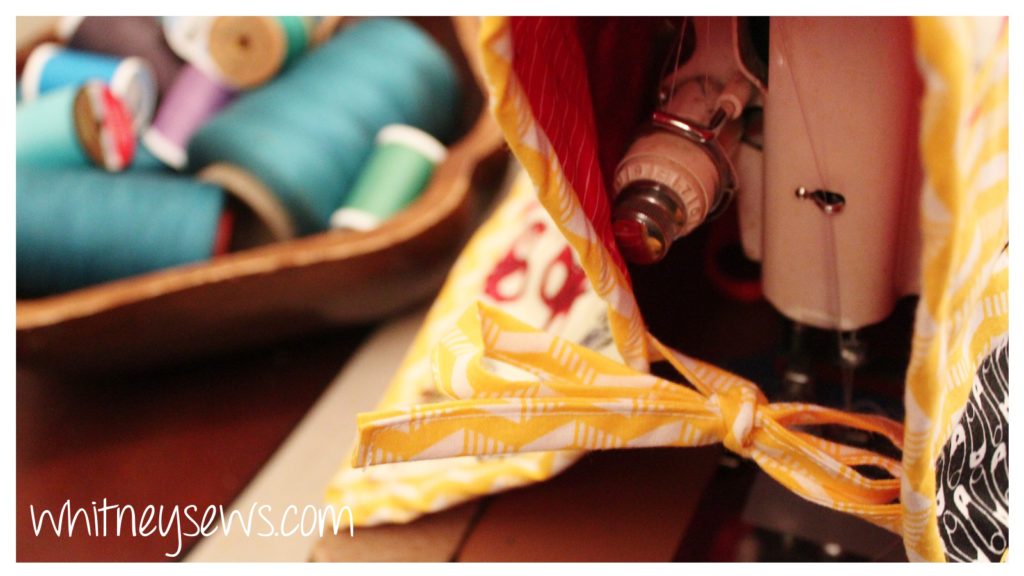 Measurements I used for Pieced Cover:
2 x 18 inches Red Stripe
5 x 18 inches Black Pins
4 x 18 inches Yellow and White
6.5 x 18 inches Sewing Notions
2.5 x 18 inches Grey dots
8 x 18 inches Vintage Scissors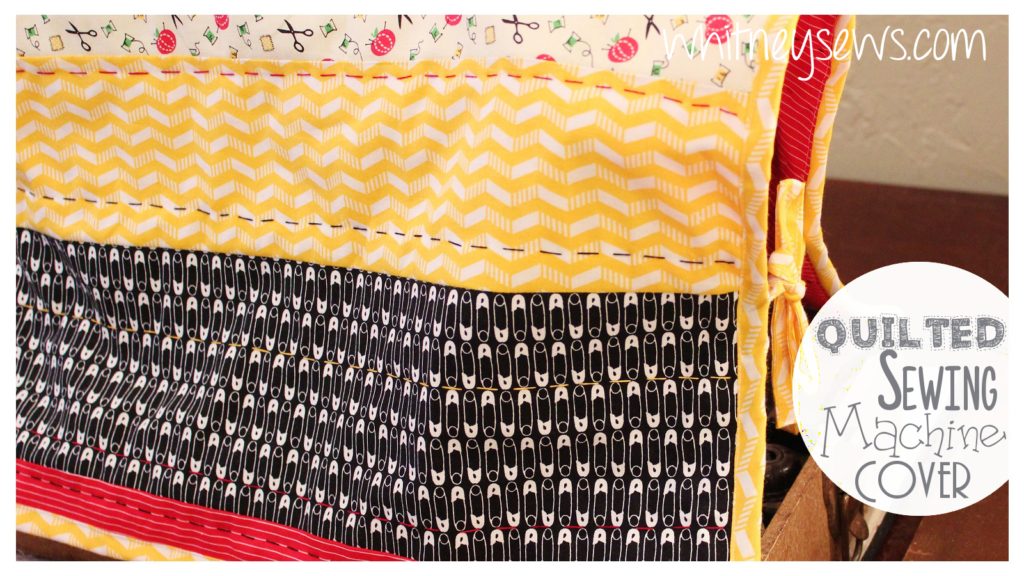 Backing and batting - approx. 23 x 30 inches
Binding - Three strips 2 1/4 inch by the width of fabric
Ties - One strip 1 3/4 inch by width of fabric (then cut into four equal pieces)
Once the pieces were all sewn together I added a batting and backing, did a little bit of big stitch hand quilting, and added the straps and binding.   You can definitely leave off the tie straps and you have a cute mini quilt.
Click HERE to watch the full video tutorial!
This sewing machine cover serves a double purpose.  You can lay it flat and set your sewing machine on top to protect your table while sewing.
Want to see more vintage sewing machines??  Check out my Sewing Machine Showcase series where I feature beautiful vintage sewing machines that my mom and I own!  Find that series HERE!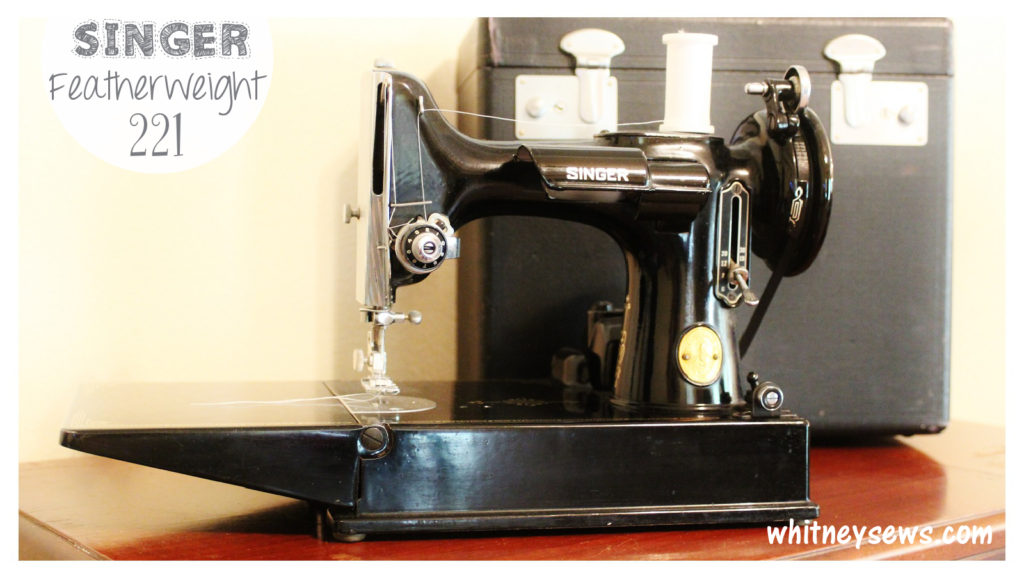 Looking for other quilting projects? Here's one of my favorites, the Scrappy Chevron Mini Quilt!  Click HERE to find it!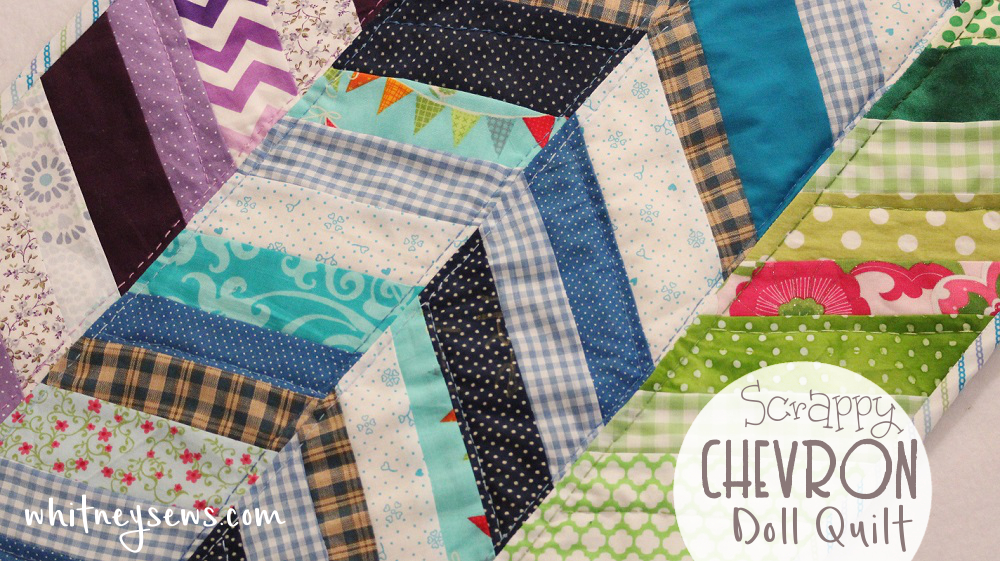 Well, I hope this post has inspired you to make some new quilted projects!  You can definitely do any kind of piecing you like on the sewing machine cover instead of strips like I did.  If you make your own please share a pic with the #WhitneySews so that I can see it and subscribe for more tutorials!

I'm super excited about the projects that will be coming up and I think you are will be too!  Happy Sewing!
-Whitney-