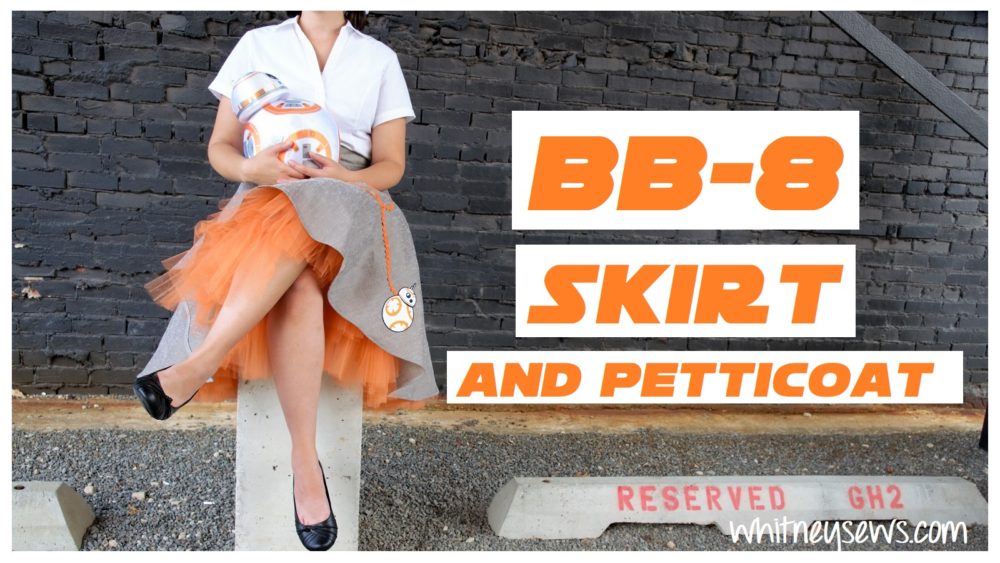 Sometimes I get an idea for a project and I KNOW I HAVE to make it. That happened when I was scrolling through my instagram and saw a picture of a poodle style skirt, but instead of a poodle there was a BB-8!  In my mind it was perfect!  I'm switching to a more retro style and love Star Wars, so a 1950s inspired BB-8 skirt is the perfect mashup!
I took a screen shot of the original skirt and started working out the details in my mind.  I knew I needed a BB-8 patch (the larger the better!), orange ricrak, and grey fabric.  I also wanted to make sure it was a full circle skirt with pockets and a matching petticoat.  I didn't have an occasion to wear the skirt in mind, so it wasn't at the top of my list to complete.
I did start gathering supplies so when I wanted to start the skirt everything would be ready.  I picked up the patch from THIS etsy seller and the ricrak from Hobby Lobby when it was half off.
BTW I used ebates to save a few pennies on this purchase as well as when I order supplies on Amazon, travel, etc.  If you are interested in saving money AND helping support Whitney Sews please consider using my ebates referral link to sign up and shop.

Then I remembered some grey curtains I had been given that would be perfect for the skirt!  So I started in making my skirt one Friday night.  The plan was to vlog the process and complete the skirt in time to wear to a convention the next day…that did NOT happen! The skirt was a disaster and I gave up on it at 2 a.m.
But a couple of days later I started over and made a beautiful skirt I'm so happy with!  You can see more pics and hear all about the mockup mishap and everything else HERE!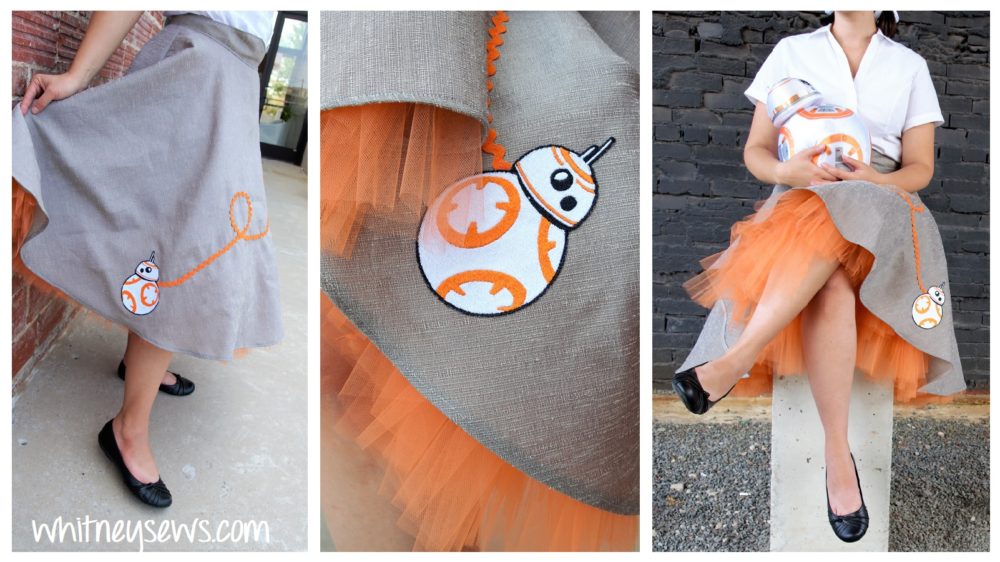 Once the skirt was complete I set to work making a matching petticoat.  I picked up the tulle at a local store closing (check out the haul HERE).  I had never made a petticoat before, but found a tutorial online that was really helpful!  Using her video I came up with the numbers to use for my petticoat.  It has two separate layers that are each made of three tiers of tulle.  The two layers are sewn together to a cotton tier.  A slip was added in for the lining and the top edge bound in bias tape with a snap closure.
I didn't film a tutorial for the petticoat, but I will give the measurements I used to give you an idea of how much tulle went into making the volume.  The cotton tier of the petticoat measures 5.5 x 48 inches.  I bound the two short sides with bias tape and only tacked together at the bottom so I can pull the petticoat on and off.  All the rest of the tiers were sewn into loops.  The second tier is 8 inches x 4 yards, the third is 8 inches x 12 yards, and the final tier is 7.5 inches x 36 yards.  As I mentioned earlier tiers 2-4 are sewn twice so there are two tulle "skirts" sewn to the cotton row.    I'm sure all of that is a little confusing if you've never sewn a project like this before, but refer to the video HERE for more help!
I show the skirt and petticoat as well as go into more details about the process in my DIY Inspiration HERE!
So what do you think of my BB-8 skirt?  Did I do the original design justice?  I'm so happy with how my skirt and petticoat turned out and am proud I was able to make it exactly how I wanted!
Want to know more about my switch to vintage inspired fashions??  Read all about it HERE! Until next time, Happy Sewing!
-Whitney-