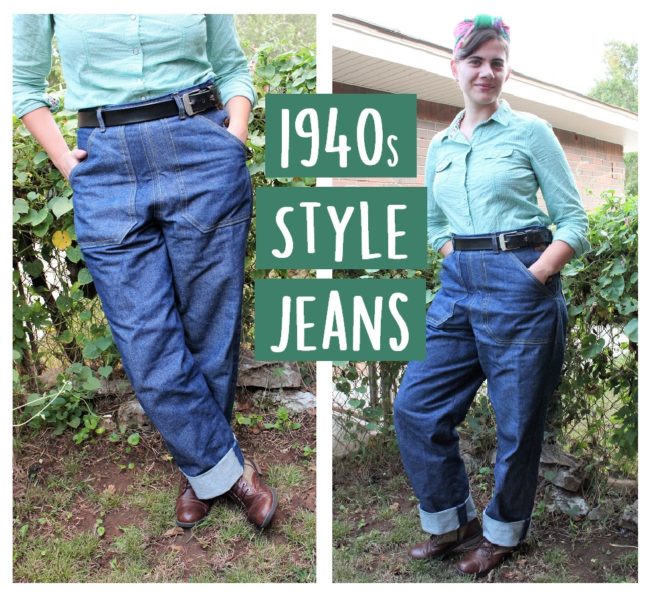 As I'm transition my wardrobe to a 1940s inspired style I KNEW I still needed a pair of jeans.  So I set out to create my own pair of 1940s jeans.  I looked at TONS of photos on Pinterest and Instagram of 1940s jeans and reproductions and selected all my favorite elements.  The double cuff at the bottom, large pockets, side button closure, and the overall fit.  I made sure to incorporate all of those into my jeans.
I love how my jeans turned out, but it was a long journey to get them made with plenty of struggles along the way. I started with Simplicity 8447 as my jumping off point.  Then made tons of alterations to the pattern including removing the darts, taking in the legs and crotch, drafting pocket patterns and a lot more!  I made a few practice pairs then ordered a bolt of denim for the final version.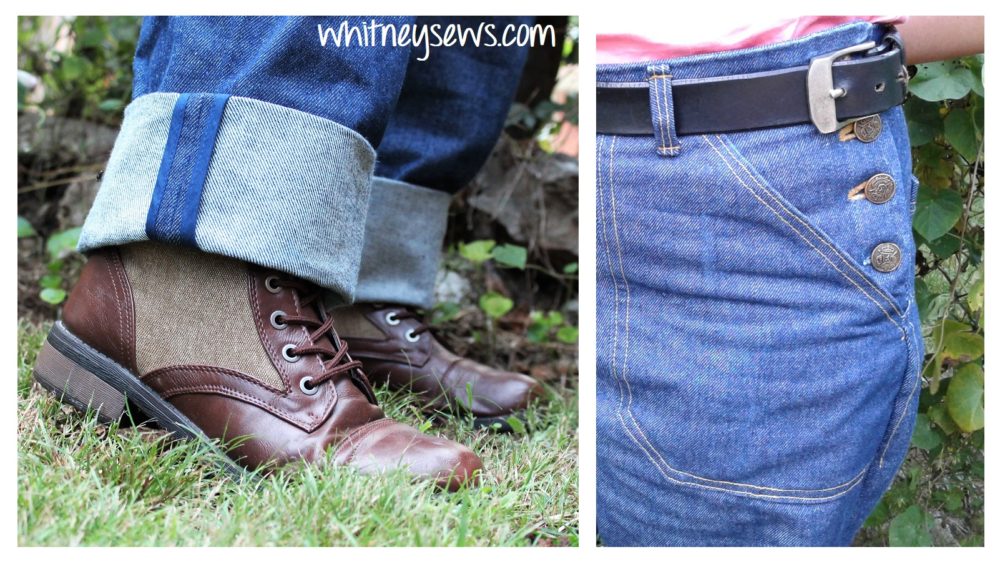 This was my first time making anything larger than a tote bag out of denim, my first time using topstitching thread, and my first time making this many alterations to a pattern.  I'll be honest, I doubted myself and my skills through several parts of the process.  But I was determined to keep going and make something I could be proud of!
Check out the video HERE to see exactly how I made my jeans!
The jeans turned out exactly how I wanted.  But I've already learned new things to help make my next pair even better!  YEP, I'm planning on making more vintage style jeans in the future!  If I had been asked years ago, or even last year, if I would make my own jeans I would have laughed.  But it's an amazing feeling to create my own wardrobe staples.  I hope to learn more and more with each pair I make!  I'm planning on the next pair being a more fitted 1950s style pair with a hidden zipper closure in the pocket.  This will require a whole new pattern drafting and several more practice pairs, so I'm not sure when I'll be able to start, but I can't wait!
Would you ever try making your own jeans?!?  What's the hardest thing you've ever sewn??
Until next time, Happy Sewing!
-Whitney-