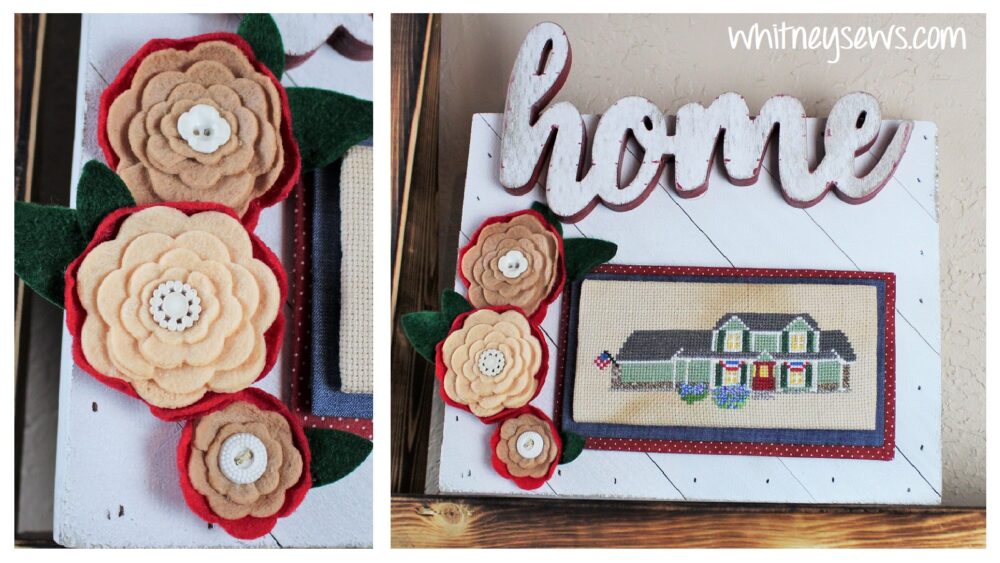 Even though I just recently returned to cross stitching I decided to tackle creating my own cross stitch designs. I love the process of starting with a blank page and filing in one box at a time to slowly create a beautiful image!
I have been looking at many cross stitched houses and want to design a few of my own. I got the idea to design one that looks like my Mom and Dad's house! I wanted it to be a surprise for my Mom, but I soon realized I needed to enlist my Dad's help. He snapped a few pics of their house and sent them to me. With those pics, and several more I dug up, I set about designing a replica of the house.
Along the way I ran into a few struggles, mostly involving getting the roofline, sidewalk, and shrubs right. I had to make a few creative changes so the overall design looks right.
*Get your FREE copy of the PDF pattern below!*
After charting everything I needed to decide on a fabric to use. I ended up going with tea/coffee dyed Aida. I wanted the fabric to have some sort of color, but not actually be colorful.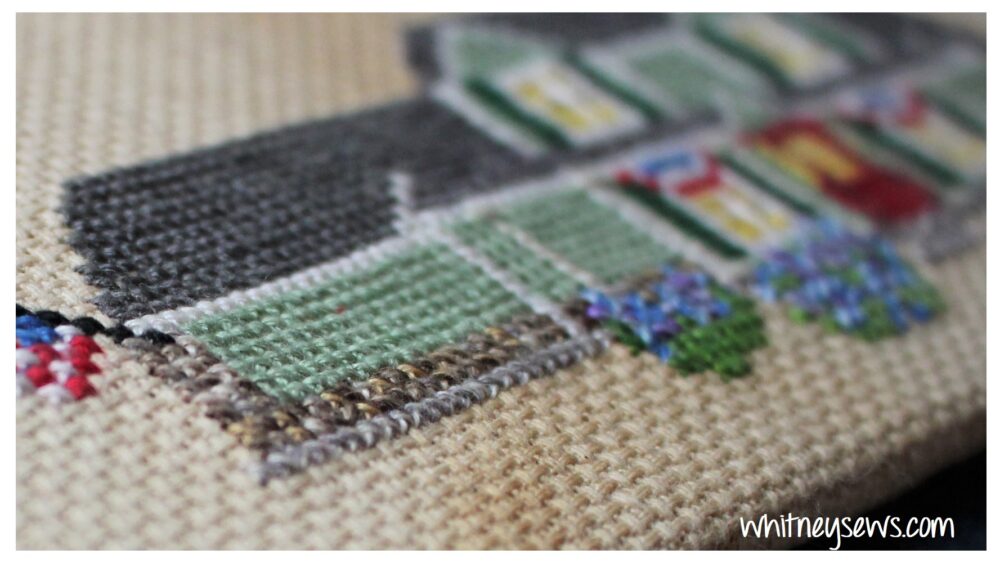 I started stitching at the corner of the house, starting with the stonework. There is stonework around the corners and lower edge of the house. We all know stones are made of many different shades and colors. It's not even that each stone is a different color, but there are multiple colors within each stone. I wanted to find a way to show that in my stitching. In the end I did a lot of color mixing. Instead of stitching with two threads of the same color, I used two different color threads. I stitched in various places within the stonework area then switched to two different colors of thread. By the end I had a really unique look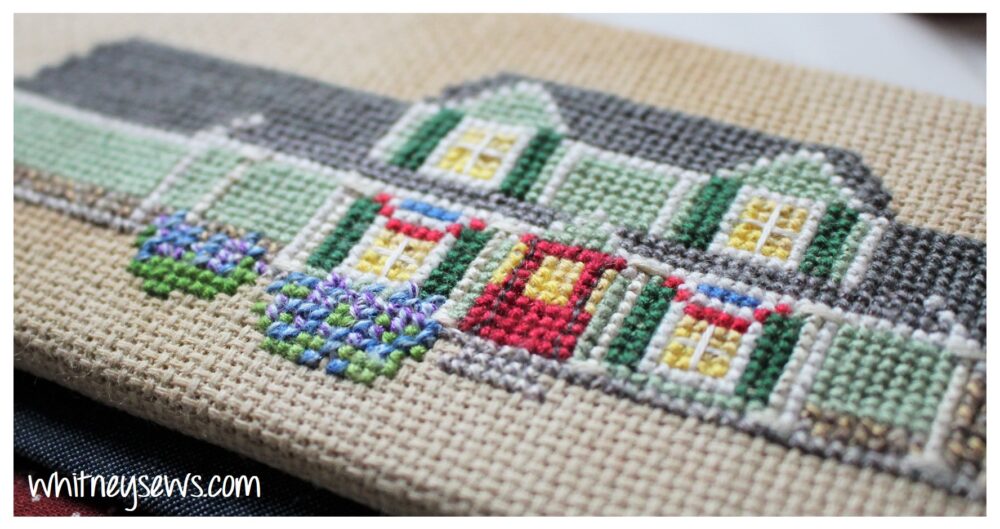 I did a similar process with the hydrangea bushes. I wanted them to really stand out and look like flowers so I mixed several shades of blue, purple, and white. To make them have more dimension (since they are in front of the house) I stitched an X and a half for each. The X that every cross stitch square is filled with, then one extra time over top.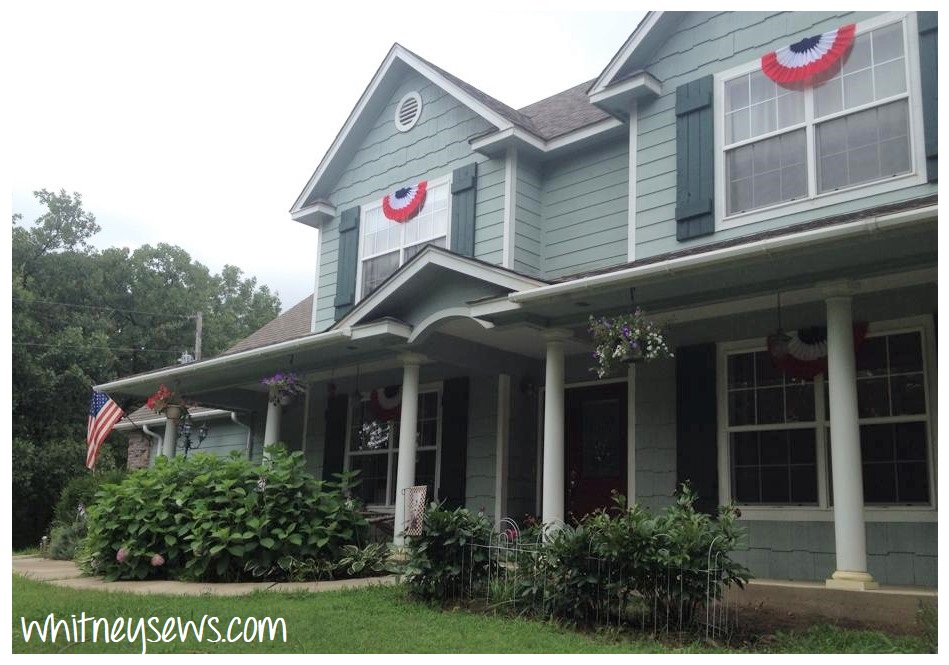 I couldn't figure out a good way to show the larger base at the top and bottom of the pillars. In the end I did three rows of top stitching on each.
I charted the house to have the sidewalk out front, but decided to leave it off the finished design.
After cross stitching the house I needed to quickly figure out the finishing. My mom was coming to visit and I wanted it to be done before she arrived! I ended up selecting a whitewashed wood piece and a wooden home sign from the craft section at Wal-Mart.
I grabbed a few scraps of fabric from my stash (one that looks like denim and one dark red dot similar to the door color). I happened to have these rare earth magnets on hand and a random bit of metal in my toolbox. I didn't want to glue the fabric directly onto the wood in case it didn't bond well enough, so instead I glued the magnet to the wood and the metal to the cross stitched piece.
The piece still looked a little unfinished, so I pulled my Accuquilt Go Cutting Machine out and cut several flower pieces out of felt. I put them together and they were the perfect embellishment and exactly the finishing touch I needed.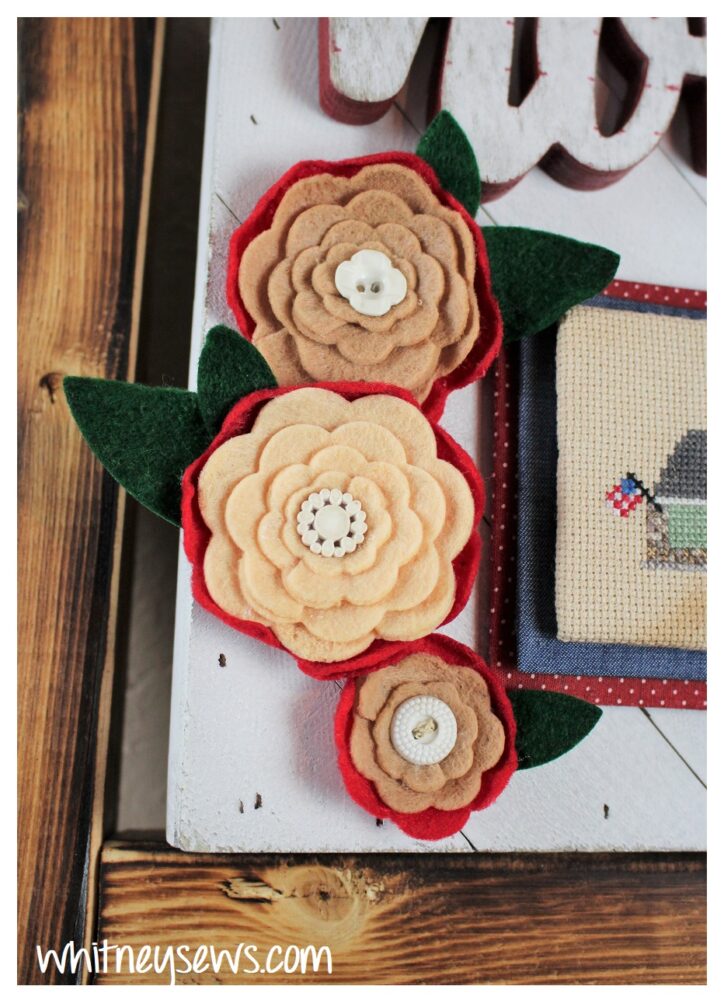 You can watch the entire finishing process HERE!
If you're interested in stitching your own version of the Fletcher Home you can! My mom gave me permission to share the PDF pattern.
I hope you enjoy seeing my cross stitch design and finishing! If you stitch your own version I would LOVE to see it! Please share pics using #StitchedWithWhitney and #TheFletcherHome
Until next time, Happy Stitching!
Whitney
*Amazon links are affiliate*