I don't know about you, but I hate hemming curves!  I avoid it as often as possible and the best way is usually by making a project reversible.  It takes twice as much material, but in about the same amount of time you end up with something that can be worn two different ways!
About 6 years ago I bought a vintage wrap skirt pattern at a thrift store and really wanted to make it.  I had also been buying tons of vintage sheets and knew those would be perfect for my materials!  I quickly learned that wrap skirts are easy to make and easy to wear.
I absolutely love my wrap skirt and I still wear it, 6 years and 2 kids later!
In the video I was trying out something new where I talked about the total cost of a project (so I ramble on about that for a while in the video).  Then I explained how to convert an A-line skirt pattern into a wrap skirt pattern.  I'm sure not everyone has a wrap skirt pattern laying around, but they might have a different pattern that can be adapted.
Check out the wrap skirt pattern HERE!
*The pattern adaptation explanation begins at 2:00 and the actual tutorial starts at 3:40*
You might notice in the tutorial that I cut my pieces slightly off grain (you can learn more about the grainline and other pattern markings HERE). That is because in this case I felt like it was better to focus on the print placement.  Since I used thrifted sheets there is no way of knowing how they were taken care of previously and most times the grainline is no longer straight from years of washing and using.  Since the skirt has two layers I didn't have any problems with it hanging oddly.  But if you are starting with yardage it's a good idea to pay attention to the grainline when sewing.
Anyway, enough about that…earlier this year I made another reversible skirt project.  This one was a cute little circle skirt for my daughter, Peyton.  I may be biased, but I think she looks absolutely adorable in it (even though she won't stand still long enough for me to take a photo)! In that same tutorial I showed how to make two other circle skirts and shared my secret for painlessly hemming curves with lace.
Check out all three circle skirts HERE.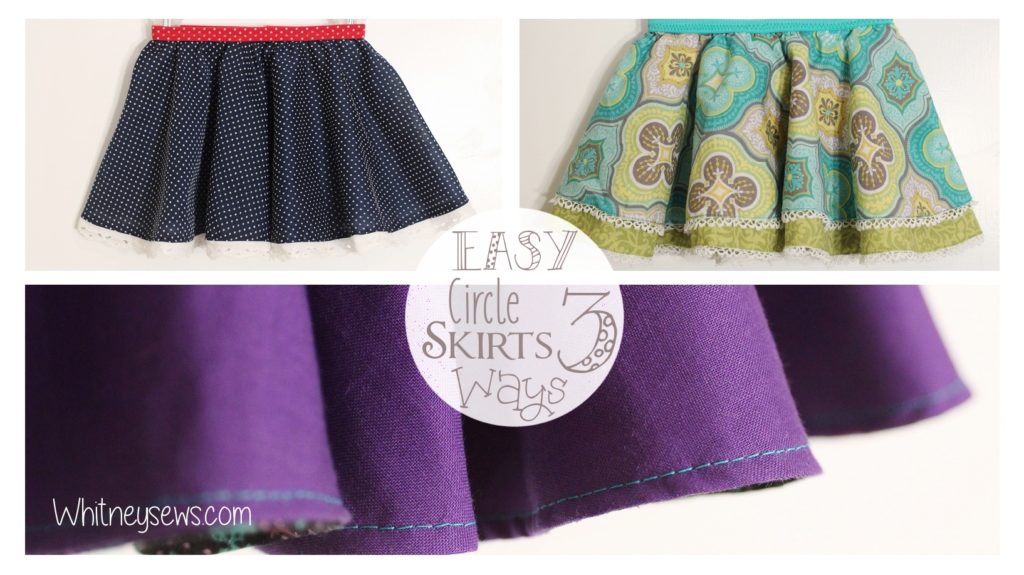 Even my lined tote bags can be reversible!  Didn't know that??  Check the bags out HERE!
Can you think of any other projects that can easily be made reversible?  I would love for you to leave a comment below letting me know what you come up with!
I'm off to dream up new reversible projects!  Until next time, happy sewing!
-Whitney-