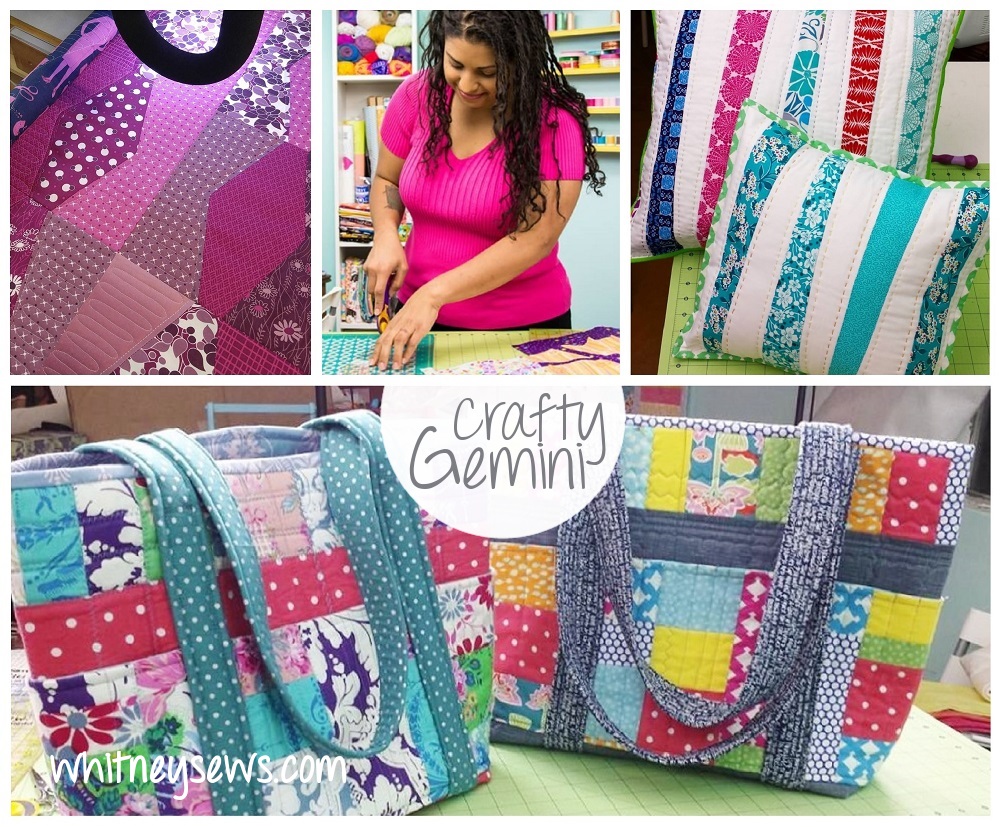 I have been following Vanessa from Crafty Gemini on youTube for several years.  It has been inspiring watching her channel and brand grow to the point that it is supporting her family.  It has been especially encouraging and inspiring to me since that is something I would love to see happen with Whitney Sews.
Vanessa, AKA the Crafty Gemini, lives with her husband and two kids on a small farm in Florida.  She is a cloth diapering, baby wearing, home schooling mama as well as being a talented quilter, crafter, and entrepreneur.  On top of all that she also runs an online quilt club, recently launched an online bag of the month club, and has a fabric collection called #Dominicana coming out in November!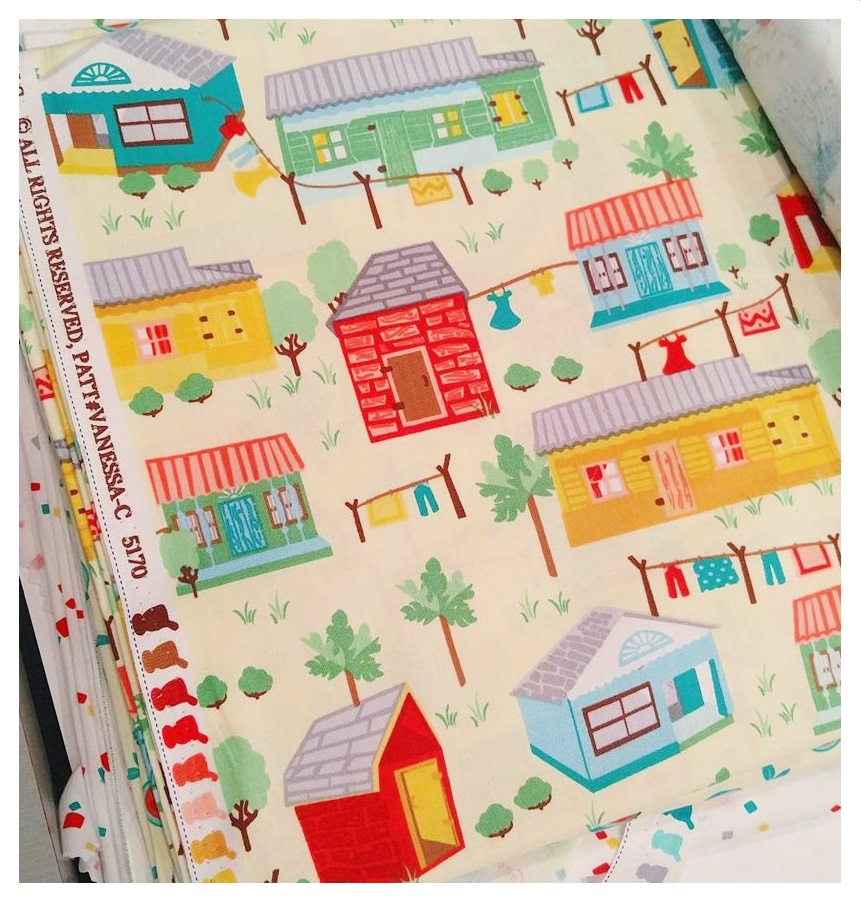 When Vanessa contacted me about creating a project for my channel using her 10 inch slicer template I was thrilled to work with someone who inspires me so much. Because I draw so much inspiration from Vanessa I wanted her to be the first creator featured here on Feature Friday.  Hopefully you all will be inspired by her as well.
The 10 inch slicer I used for my quilt top, and her newer 5 inch slicer, were both designed by Vanessa and are made here in the USA.  They are intended for using with precuts, but can really serve a multitude of uses.
Since I don't typically buy precuts I wanted to figure out a way to use the 10 inch slicer with fabric yardage.  I came up with a design that incorporates 1/3 yard each of 5 different low volume prints to make a quilt top measuring about 38 X 42 inches.
I am so happy with how the quilt top turned out (and since it is the perfect size for a baby quilt!) I decided the finished quilt would be perfect for my daughter Skyler.  I was having trouble coming up with a name for the design so I asked for suggestions and Brandi Marin suggested the perfect name, Pastel Falls.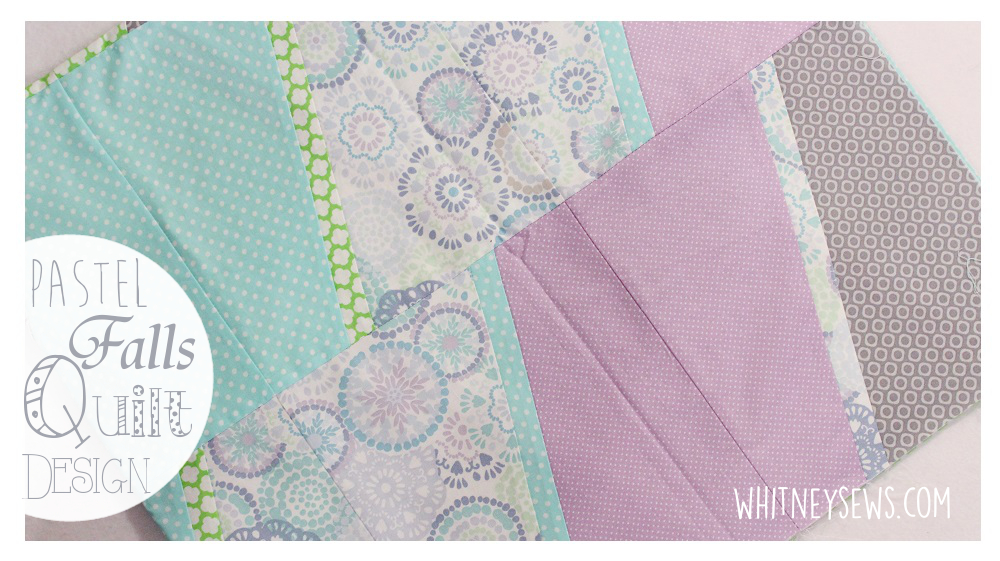 I had a few reservations when making the quilt top because I am usually more comfortable with paper piecing instead of tradition patchwork and I was in my third trimester of pregnancy with Skyler.  I was worried about how long it would take to sew the entire quilt top.  I was pleasantly surprised with how quickly it went together; it only took a single afternoon!
Click HERE to watch the full FREE tutorial for my Pastel Falls quilt top!
Vanessa continues to come up with more and more uses for her slicer templates.  My favorites so far are the Starburst Zipper Pouch she made using the 5 inch slicer and the 10 inch Slicer Zipper Pouch.  The 10 inch slicer zipper pouch is the perfect size for holding fabric shears and I plan on making one or two for mine.  The starburst zipper pouch is one of those projects I was instantly in love with!  When Vanessa posted a sneak peek of the project I was immediately interested and trying to figure out just how she created the unique design (hint – it was all thanks to her 5 inch slicer).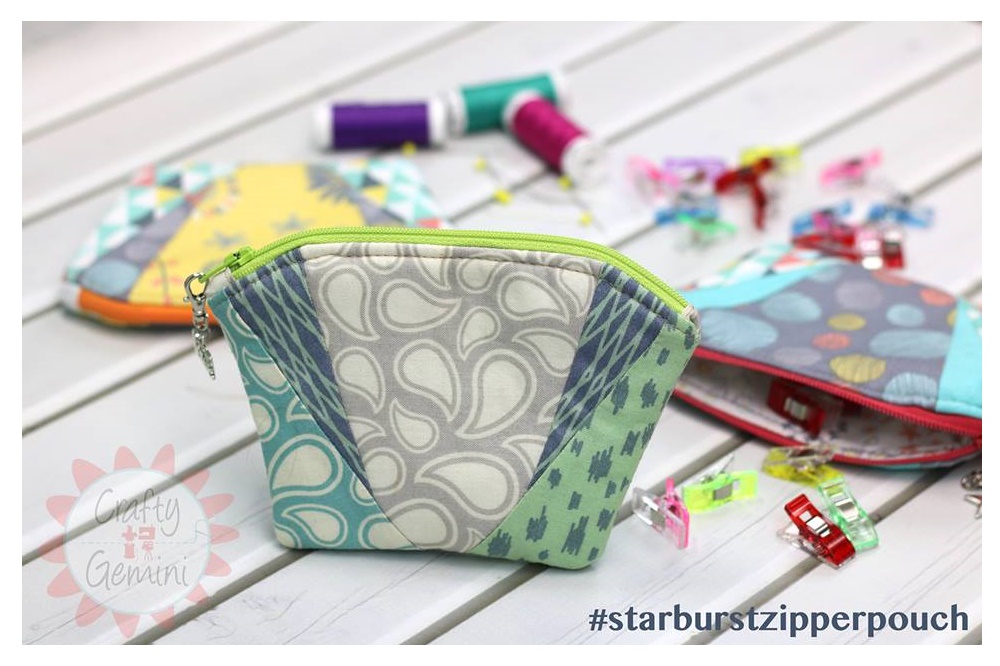 I'm just finished making my own starburst zipper pouch using the 5 inch slicer and scraps left over from my quilt top.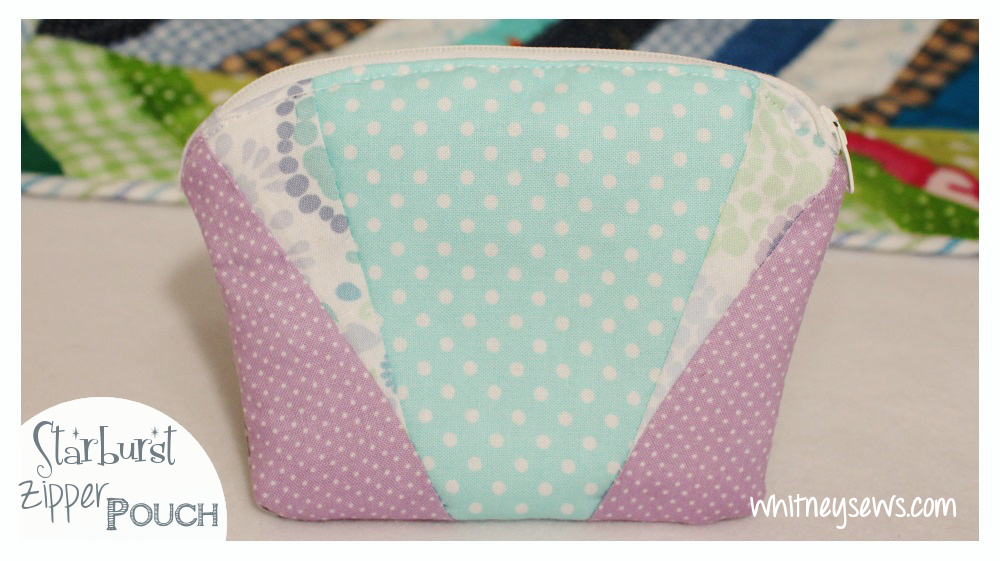 This is only a small taste of all the creative ideas and tutorials Craft Gemini has to shared.  Make sure to check out her youTube channel and website for much, much more and don't forget to let her know that Whitney sent you!
I hope this Feature Friday has inspired you in some way and if you have ideas of projects or creators you want to see featured in an upcoming post make sure to leave them in the comments below!  Until next time, Happy Sewing!
-Whitney-