I was scrolling through Instagram a while back and saw a zipper bag that had a curved top and what I thought to be a curved front pocket.  I realized later it was not actually a front pocket, but was in fact just a decorative seam mimicking the top curve.  Afterwards I was determined to make the bag I thought I had seen in the photo – with a curved top zipper and a front pocket with a matching curve.  I had never made a zipper bag with a curved top, so this was a fun project to design and make.
Before starting your curved top zipper bag you will need to make a pattern.  I made a quick pattern to test the design, assuming I would need to tweek the pattern and I would film making the new one.  Buuuuut the original pattern worked out and I didn't need to make a new one. But it's not hard at all, so I'll walk you through it.
Grab two pieces of 8.5 x 11 inch printer paper.  Trim a quarter inch off each so they are 8.5 x 10.75 inches.  On one sheet measure up 1.5 inches from the bottom (long) edge and draw a gradual curve from the bottom to the mark 1.5 inches up.  Fold the paper in half and cut along the marked curve to make sure the curve is symmetrical.  Tape the curved piece to the top edge of the larger piece (making it about 10 inches tall at the highest and still the 10.75 inches wide) and you have your pattern.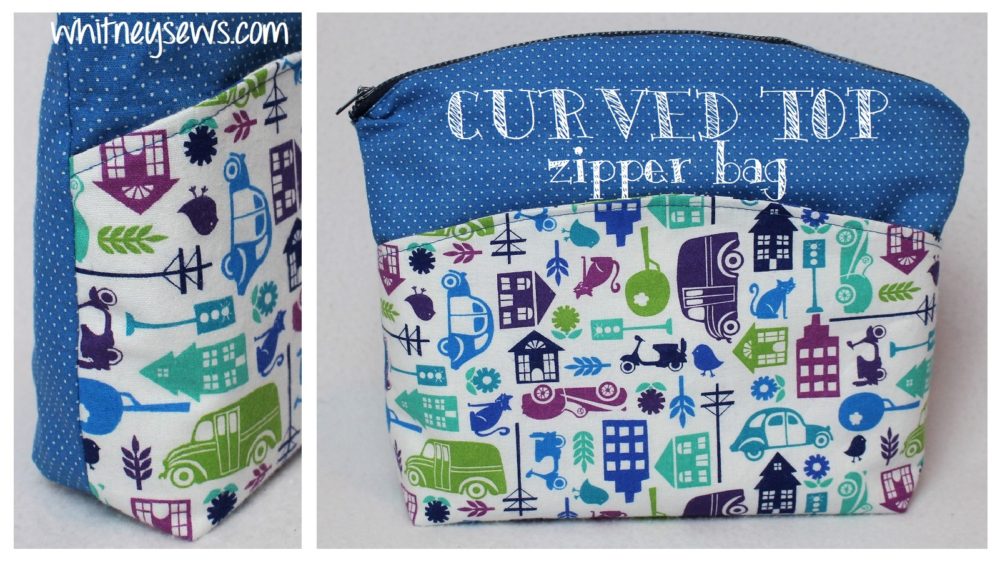 Use the pattern to cut two bag outers and two bag linings.  Then fold the bottom two inches of the pattern up so the shortest side measures 6.5 inches and cut two pocket pieces.
I used fusible interfacing on my bag outer and pocket pieces, but in hindsight I should have used fusible fleece.  I love the fusible fleece from Pellon and definitely recommend it.  Here's the link if you want to check it out.  It's an affiliate, so anything purchased through it goes to help support future Whitney Sews tutorials.
After the pieces are cut and fused you are ready to start sewing following my step by step tutorial.  Click HERE to watch!
What kinds of zipper bags do you like to make and want more tutorials on??  I love bags with boxed bottoms so they stand up on their own and hold more items.  Well, that's it for today.  Until next time, Happy Sewing!
-Whitney-